Welcome to Springhead School
We are an all-age specialist school for cognition and learning – a community special school based in Scarborough, North Yorkshire. We admit pupils aged 2 – 19 with a wide range of special educational needs and disabilities, which include complex moderate, severe and profound learning difficulties and disabilities and which may also include autistic spectrum condition, physical or sensory needs and social / emotional and mental health needs.
We are a partner school within the Scarborough Teaching Alliance, and take an active role in working collaboratively to promote innovation and research in a range of areas including pedagogy, technology, and teacher training.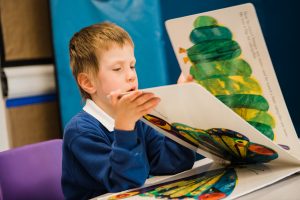 Headteacher's Welcome
The values that shape our school are those of respect, integrity and a positive attitude, and we offer unconditional positive regard to all our pupils. Some of our pupils have yet to experience success in their learning. We aim to teach creatively, our practice based on effective learning strategies, ensuring that the pupils' development and our expectation goes in the same direction and are appropriate and realistic for our children and young people. We know that we achieve better outcomes for pupils if their starting point is that of being engaged, relaxed and excited to learn.
You are welcome to browse around our website to glimpse aspects of life at Springhead. However, it is no substitute for a personal visit to experience the ethos and culture of the life of our school in action.  We are always happy to share our schools successes and achievements with visitors so please telephone to make an appointment if you are interested in seeing our school's educational opportunities and provision. We produce a termly newsletter to showcase how we have been learning – the latest newsletter  can be found here.
Beth Cargill
Headteacher